Discussion Starter
·
#1
·
Well, finally got the pro done and was able to get out and ride it for the first time this summer! All seemed to go very well, the ski ran awesome with very few problems.
I broke one hose clamp from the pipe-to-manifold hose, one bolt (that i forgot to tighten) fell out of the steering pod. And the worst thing, which i'm kinda pissed about is the little spring that goes around the rear main crank seal fell off!!! I have NEVER seen this happen. All of these problems occured in the first little check ride i took (5 minutes).
Anyone else seen the crank seal spring come off?? It ran great however for the rest of the weekend.
I haven't run it TOO hard up top yet, but low end response and midrange are great, just a touch rich, but i'll take care of that later.
Top end, I was easily pulling 7600 rpm's and didnt hold it for a very long time, so i dont know if I'm gonna pull more r's yet or not. I believe i'm looking for 7800 stock...??? I was pulling 58-60mph at 7600rpm's in decent waters, but definitly not glass.
The hull took on maybe a gallon of water all weekend, and I am absolutely LOVING that!! I wasnt going under water like i used to, but i was still surprised how dry it stayed. I'll go out in a bit and get pix of how my underhood was finished and the seal that i used. (no storage tray for those who dont remember)
I've got to adjust my valves again, the center and mag valves want to stay open a touch every now and again for some reason. I think the cable might be binding....
I couldnt get any pictures in action, but here's a few pix of the lake/river I was at, and a couple other ski's that were along.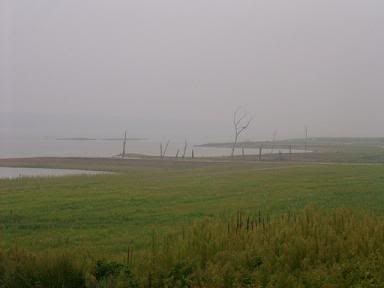 I would have been out there right then if i didnt go to a wedding reception the night before! Picture looking south towards bridge that is not visible.
This picture is where the river runs into the reservoir/lake. It's kinda like a delta and I'm always a nervous wreck when riding in this area. It can go from 8ft deep to 1ft deep...gotta know where that current bed is!!
Here's looking south towards the "mile long bridge" after the fog had lifted. This was saturday and was kind of a gloomy day.